EFOY Pro 12000 Duo
EFOY Pro 12000 Duo providing higher output.
100% reliable, off-grid energy
Power generator for high energy requirements
The EFOY Pro 12000 Duo, our 500 W fuel cell, offers 100% reliable, off-grid power as well as emergency power. When required, the fuel cell charges the battery fully automatically, then turns itself off again – without maintenance and without user intervention.
Its compact design allows installation in a 19-inch control cabinet. By the output up to 500 W, applications with higher power requirements can easily be operated with the EFOY Pro 12000 Duo. Typical areas of application are back-up power supplies for wind and telecommunications systems, off-grid power supplies for monitoring traffic and environmental sensors as well as on-board use in vehicles.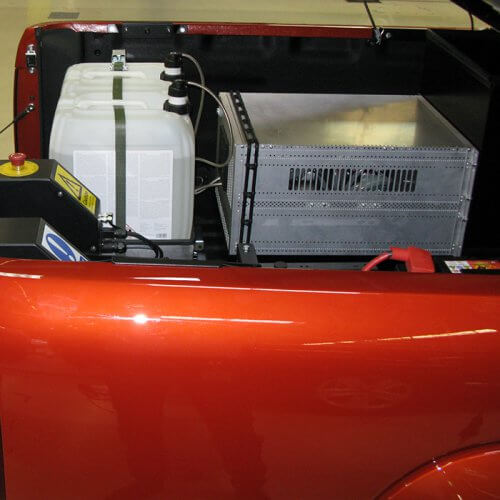 EFOY Pro
12000 Duo
Power output
500 W
Power output after (operating hours)1
400 W (3,000 h)
Nominal voltage
24 V DC / 48 V DC
Charging current
20.83 A / 10.42 A
Charging current after (operating hours)
16.67 A / 8.33 A (3,000 h)

Recommended battery capacity2

24 V: 200 to 875 Ah
48 V: 100 bis 450 Ah

Weight

32.0 kg (70.6 lbs)

Warranty3

24 months / 3,000 operating hours

Connectable cartridges

M5, M10, MT60 / M28 only with M28 adapter

Number of connectable cartridges (with DCS1)

2 (4)

Length fuel cartridge connector

73 cm / 28.7 in

Switching threshold for automatic battery charging at 12 V / 24 V / 48 V4

On: — V / 24.4 V / 48.8 V
Off: — V / 28.4 V / 57.6 V

Required start-up voltage at 12 V / 24 V / 48 V

— / 20 V / 36 V

Maximum battery voltage at 12 / 24 V /
48 V

— / 31 V / 62 V

Noise level (at 1m / 7m distance)

62 dB(A) / 45 dB(A)

Nominal Consumption5

0.9 l/kWh

Quiescent current draw at 12 V

75 mA (at 24 V)

Operating temperature6

-20 °C to +50 °C / -4 °F to +122 °F

Start-up temperature

+3 °C to +50 °C / +37.4 °F to +122 °F

Storing temperature

+1 °C to +50 °C / +34 °F to +122 °F

Altitude7

up to 4,000 m / 13,123 ft

Dimensions D x W x H

640 x 441 x 310 mm / 25.2 x 17.3 x 12.2 in (7HE)

International Protection (IP-Class)

IP 20

Inclination along the roll axis

Permanent: max. 10°; temporary (<10 min): max. 45°

Inclination along the lateral axis

Permanent: max. 10°; temporary (<10 min): max. 45°

Communication protocols

MODBUS RTU; Clear text protocol (SIO commands)

User-Interface

At the unit with text display or via external operating panel OP2

Data-Interface

RS232 RJ-45 plug
2x RS485 RJ-45 plug
I/O terminals (A, B, GND)

Electrical Interface

Power: +/- terminals: min. 10 mm²
Sense: +/- terminals: min. 2 mm²
Ground: Terminal: min. 2 mm²
1) Nominal power varies by ±10 %, decreases with the operation hours. Specification valid within warranty period.
2) Depends on battery type and application – bigger batteries possible, if additional energy source available (e.g. solar)
3) Regional warranty conditions for EFOY Pro fuel cells apply.
4) Factory Setting – can be modified with Interface Adapter and PC or operating panel OP2.
5) Effective consumption depends on operating conditions.
6) At temperatures above +40 °C / +102 °F the power output can decrease. Charging Lithium (LiFePO4) batteries is not always possible at temperatures below 0 °C. The instructions from the battery manufacturer must be observed.
7) During operation above the recommended altitude the power output can decrease.
EFOY energy solutions
EFOY Pro energy solutions combine power generation via EFOY Pro fuel cells and energy storage with batteries in suitable housing. There is still sufficient space for customer-specific adaptations.
Can be controlled remotely
The EFOY Pro fuel cell can be monitored and controlled via a modem.
Questions and answers about the
EFOY Pro 800
How much does an EFOY Pro fuel cell cost?
HOC Production
2020-07-23T08:47:22+04:00
Your EFOY Pro partner can tell you the current prices or contact us, we are happy to help!
What do I have to consider when installing the EFOY Pro?
HOC Production
2020-07-23T08:46:16+04:00
Make sure there is an adequate air supply and sufficient ventilation for waste heat and spent air. Please also ensure that there is enough space for the fuel cartridges and the unit itself. You can refer to the user manual for more details.
What is the EFOY Pro fuel cell designed for?
HOC Production
2020-07-23T08:45:24+04:00
The EFOY Pro fuel cell has been designed and developed for commercial and professional operation.
We are happy to help you personally!
+971 50 632 3225