EFOY ProEnergyCase
The complete, mobile energy solution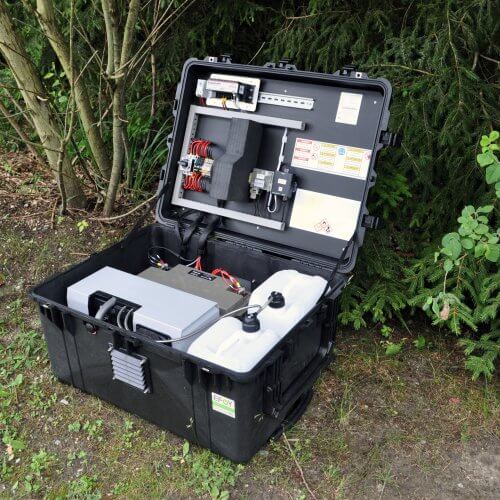 Mobile power supply solution
The EFOY ProEnergyCase is a portable, maintenance-free, all-in-one solution for grid-independent power supplies. The robust housing and fast setup process mean that the EFOY ProEnergyCase is ready for use at any time and in any location.
One EFOY Pro fuel cell, up to two batteries and up to two M10 fuel cartridges can be integrated into the EFOY ProEnergy Case. The integrated solar charging control makes the EFOY ProEnergyCase ideal for hybrid operation with solar systems. Long-lasting, independent operation without user intervention is therefore guaranteed.
Easy transport
Thanks to its compact dimensions, the EFOY ProEnergyCase can be transported easily in a car. Setup and transport can be easily carried out by one person. Castors on the underside make the ProEnergyCase especially portable.
The perfect power supply for your application
Long operating life
EFOY Pro fuel cells supply off-grid power for months – without any user intervention.
Questions and answers about the
EFOY ProEnergyCase
How much fuel does the frost protection mode consume?
HOC Production
2018-07-17T09:07:45+04:00
The fuel cell requires approx. 5 -10 litres of methanol for dedicated frost protection mode during a five-month winter period in Central Europe.
Where can I buy an EFOY Pro fuel cell?
HOC Production
2018-07-17T09:07:21+04:00
Please contact us directly. We will recommend you the suitable EFOY Pro Partner.
What is the EFOY Pro fuel cell designed for?
HOC Production
2020-07-23T08:45:24+04:00
The EFOY Pro fuel cell has been designed and developed for commercial and professional operation.
We are happy to help you personally!
+971 50 632 3225