Mobile and off-grid power for defense and security organizations
SFC Products
in use
Fuel cell products from SFC Energy provide power directly on site in a reliable, environmentally friendly and high-efficient manner for the safe, interruption-free functioning of the equipment they power.
On-Board
Power Supply
SFC fuel cells are used in various vehicle applications, for example for surveillance missions and covert operations. These systems provide a reliable power supply to electronic devices in emergency, command, and multipurpose vehicles. Their silent operation minimizes the risk of being detected based on the sound and heat signature.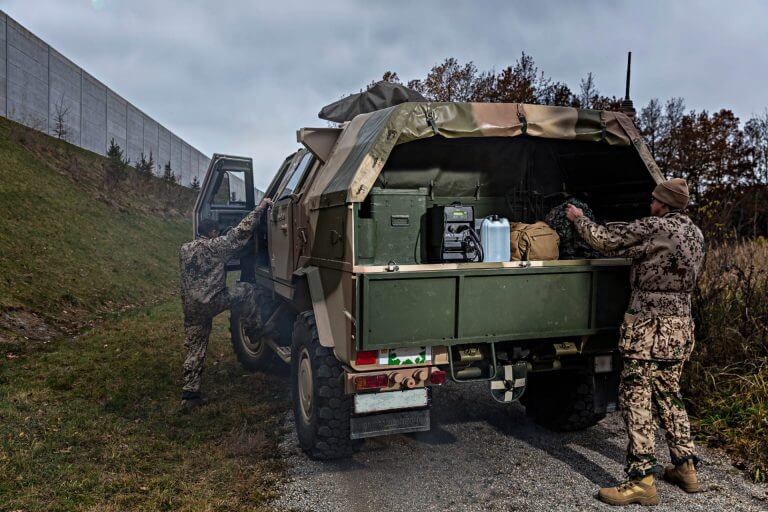 Military vehicles
The military hardened SFC EMILY fuel cell is particularly well-suited for military requirements, which was developed and tested for operation under extreme conditions. The robust solution can also easily be used in uneven terrain for silent watch missions and is used by many international defense organizations.
Government vehicles
The EFOY Pro fuel cell is primarily used in blue light organizations, for example for the vehicle fleet of the German Federal Office for Goods Transport. The EFOY Pro fuel cells ensure the on-board power supply during parking checks. Numerous federal and law enforcement agencies across Europe and North America use EFOY Pro fuel cells as a mobile power supply for office facilities and undercover surveillance.
Remote Power Supply
SFC fuel cells operate mobile command posts as remote power supplies. They supply observation and telecommunication equipment and ensure communication and the maintenance of radio contact – day and night and in any weather. In addition, they can be used for temporarily set up camps, for example, for refugees and provide immediate and fully automatic power there just like from a wall socket.
Stationary
Power Supply
SFC fuel cells supply stationary applications with power completely autonomously and without user intervention, usually for weeks. EFOY Pro Fuel cells are frequently used in video surveillance, for example, by the police and coast guard in Singapore. JUPITER Fuel cells are already in use in many locations to provide backup power for critical infrastructures. The fuel cell modules switch on completely automatically and take over the load no later than 20 seconds after the power fails. Defense organizations also use EFOY Pro fuel cells for the decentralized emergency power supply of the command center in hazardous situations in order to maintain the radio network.
Portable Power Supply
SFC JENNY fuel cells are specially used for reconnaissance missions due to the significant weight savings of up to 80 % and are used, for example, by special forces and infantry. The endurance is significantly increased and the duration of use is extended.
SFC JENNY
Covert
Power Supply
Audio and video surveillance systems are used to protect and monitor infrastructures, for border control, for security during events, and to watch animals and plants in the wild. They are often installed and operated covertly. EFOY Pro fuel cells and energy solutions reliably provide off-grid power without any user intervention for weeks on end. Quiet and, if necessary, concealed and vandalism-proof. They are silent in use and can be integrated into an inconspicuous environment unnoticed.
EFOY Pro
Energy solutions
Mobile Power Supply
The mobile energy solutions from SFC Energy are ideal for outdoor applications. They are immediately ready for use at any time, in any place, and in any weather. That means they are particularly well suited for use in emergency response situations and can be used by disaster management authorities, for example, to operate lighting or communication systems.
Energy solutions
Questions and answers about
application areas
How can fuel cells be used for special units?
HOC Production
2020-10-19T09:31:44+04:00
Special and task forces require a portable power supply to dependably provide their technical equipment with power throughout the full term of their deployment. Until now, this has involved a tremendous carrying weight and major logistical efforts. With the SFC energy network consisting of the SFC JENNY 600S and the SFC Power Manager, a weight savings of up to 80 % is achieved on a 72-hour deployment.
We are happy to help you personally!
+971 50 632 3225